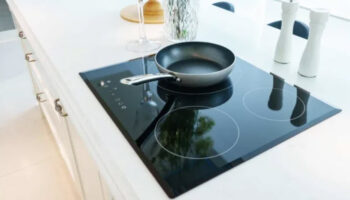 If it's time to replace your cooktop or range, it's a good idea to consider induction models.  Induction models first appeared in stores in the 1980's and are now the preferred option for many people because of their energy efficiency. They resemble smooth glass-top traditional electric models in appearance but there's a big difference in how they work. Induction cooking does not radiate heat on its own; it creates an electromagnetic field that interacts with compatible cookware. It causes the cookware itself to heat up, which leads to several advantages.
Advantages
The biggest advantage is the gain in energy efficiency. With induction cooking, as much as 90% of the energy consumed goes into cooking the food. Sources vary widely on the efficiency advantage of induction over conventional electricity; the government's Energy Star program claims the technology is 5-to-10% more efficient, while others report it as much higher. Compared with natural gas or propane cooking, induction may be as high as three times more energy efficient, because no heat is lost to the area around the pot or pan as it is with an open flame.
Induction cooking is fast; you can boil water in less than half the time it takes with other forms of cooking, and it's very responsive to temperature adjustment. Because the cooktop itself stays relatively cool, induction tops reduce the risk of burns. The cooktop cleans up easily because spills cannot bake on and cause charring. And, compared with natural gas or propane, induction cooking is much better for indoor air quality.
Disadvantages
Induction cooking works only with ferrous cookware, which includes cast iron and stainless steel. Aluminum or copper pots and pans without an iron core won't work unless you place an iron or steel plate between the cookware and the burner. If a magnet sticks to the cookware, the cookware will work with induction. Induction doesn't work well with small-bottomed cookware, such as a wok; it's best to use flat-bottomed cookware to ensure even heating. Fan noise (a fan is built in to keep the electronics cool) and an occasional ringing noise (metal pot lids can "sing") annoy some people. Finally, there are concerns that induction could interfere with certain models of cardiac pacemakers.
Features
Cooktops vary in the number of burners and the number of power levels offered for temperature control. Some have a boil function for going to maximum power fast. Other features are a bridge setting to heat a large skillet; a warming ring; and even cooktops on which you can place the pot anywhere…the unit recognizes the placement of the pot and reacts accordingly.  Magic! Ovens in ranges are conventional electric, conventional electric with an optional convection setting, or even double ovens.
Costs
A full cooktop or range with induction cooking can cost from about $1,000 to $6,000, depending on the features included. If you are replacing a conventional electric stove, you likely have the electrical circuitry in place, and an induction unit will go in place without any added expenses for an electrician. But, if you are converting from natural gas or propane and don't have the proper circuity for an electric range, you could have a significant additional electrical cost to install the wiring required for an induction range. Be sure to investigate that possibility before investing in an induction cooktop or range.
Household Electrification Incentives
Good news! The Inflation Reduction Act of 2022, which was signed into law on August 16, 2022, authorizes many valuable discounts, tax credits, and rebates. Once the incentive programs are up and running through the states, you may qualify for up to $840 toward the purchase of an induction range or cooktop and up to an additional $500 to defray your outlay for converting from propane or natural gas to electric, and you may be able to get a tax credit of up to $4,000 if you are required to upgrade your home electrical panel in order to accommodate an electric appliance. Check out this calculator to see what incentives you may qualify for.
Portable Units
Portable induction cooktops offer another choice in induction cooking. You can buy single or double burner portable units that typically work with a 120-volt, 15-amp circuit, that is, any standard outlet. They usually cost between $50 and $250. Higher-end professional models can accept more weight; lower-end models have reduced features, such as fewer power levels.
Notes on Induction Cooking from Your Neighbors
Sung Chang: Samantha and I were remodeling our circa 1940's kitchen. We weren't happy with the existing conventional (radiant heat) electric range, and it was impractical to consider natural gas or propane. We looked into induction and are glad we did. We needed to upgrade the electric anyway, so that cost was not an issue. We love how easy it is to clean compared to the old unit.
Bruce Daggy: Our kitchen has a propane cooktop. Anne and I didn't like the impact that has on indoor air quality, but we weren't sure about spending thousands of dollars for the unit and rewiring when we had never tried induction. So, for about $120 we bought a portable induction cooktop. We typically need only one burner at a time; induction has reduced our use of the propane cooktop by more than 90%. The portable unit is much better for air quality and is a breeze to clean up. We use it every day.
Kitty Seiferlein: Mark and I are enthusiastic users of this technology. We learned about the technology years ago at the annual international energy efficient home competition on the National Mall, where energy efficiency was a top feature of the model homes. Every single model home had an induction stove; a must to be competitive. So, we bought our first induction stove then, and when it finally wore out, bought our second. In addition, some time ago, Mark bought a one-burner portable version for emergencies. We've used the portable successfully a couple of times.
If you have questions, feel free to reach out to these folks to learn more.
Related Resources