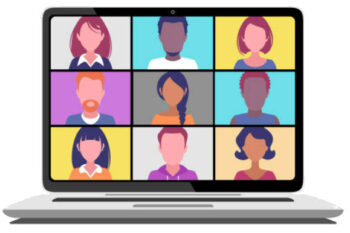 You have four options to conduct a Grove meeting.
1. Personal Zoom account—Zoom Basic option (free)
If you have not already done so, sign up at zoom.us to use Zoom — see the orange sign-up button at the upper right on that page.
Once you have signed in, then by default, you are on the Zoom Basic plan, which is free.
The drawback to this plan is that, for meetings with three or more participants, Zoom imposes a 40-minute time limit, and will cut you off after 40 minutes without warning.
However, at the beginning of a meeting, you can inform your participants that when Zoom cuts all of you off after 40 minutes, everyone can once again use the same URL they used to get into the meeting, to get into the meeting again.
While Zoom is very easy to use for meeting participants (which accounts for its popularity), it is not that easy for Zoom hosts to set up meetings.  Zoom presents a lot of options, and doesn't always explain these options well.  I recommend that you watch this 2-1/2-minute video on How to Schedule a Zoom Meeting.
2. Personal Zoom account—Zoom Pro option (not free)
3. Get a Town Zoom account
Ask the Mayor and Council to have the Town pay for a Zoom account for your group.  If you are the chair of one of the Town's commissions or voluntary committees, the Town will fund a Zoom account to host your meetings.
4. Piggyback onto an existing Town Zoom account
Ask a Town resident who has a Town account to either:
share their user ID/email and password with you, or
start your meeting for you, make you a co-host, and then leave.
Some residents who currently have Town Zoom accounts are Bob Booher, Georgette Cole, John Compton, Patty Klein and Tom Land.