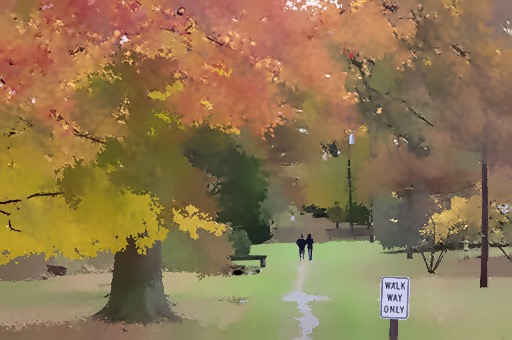 Swim Instructor Needed at Maple Lake
Afternoons during the month of July; pay is $20/hour; contact Sung Chang or John Hutchinson for details.
Yoga Returns to the Grove!
Town resident and certified yoga instructor Rachel Schwartz will be offering a free yoga class on Tuesday evenings from 6-7 pm in McCathran Hall. Rachel practices Ashtanga yoga and will teach a vinyasa (flow) class with modifications for all levels. Please bring your own mat and feel free to bring a block if you use them. The class will end on our backs with a cooling relaxation, so consider bringing a sweatshirt or fleece.  Print out and complete this waiver form (PDF) and bring it to the first class.
Yoga will be offered every Tuesday in March, and if there's interest Rachel will continue teaching weekly classes — so be sure to come out!
Upcoming Events and Dates of Note
Saturday, March 25, 1:00 – 4:00 pm: Join your neighbors for a

discussion of housing policies and their enduring effects

. We will view a short film and feature a panel of three speakers. You may choose to attend in person at McCathran Hall or virtually by Zoom. To attend remotely or in person, please register at tinyurl.com/segregatedbydesign.
Monday, March 27, 7:30 pm:

Special Town Council Meeting

on the proposed resolution "Acknowledging Washington Grove's Racially Exclusionary Past."  View more information.
Tuesday, March 28, 7:30 pm:

Washington Grove Turns 150 Years Old – Let's Celebrate!

  Join your neighbors at this planning meeting to help organize an educational, fun, and memorable tribute to our special town within a forest.
Thursday, April 13, 7:00 pm:

MC DOT meeting on the Washington Grove connector project,

which will evaluate the feasibility of creating a shared use path connecting Crabbs Branch Way and the Grove. This path could potentially connect to Amity Drive, Brown Street, Railroad Street, or other areas based on the results of public input and the study.  Join this hybrid (in person and virtual) meeting and learn about project progress and schedule; proposed pedestrian and bicycle improvements; and the cost estimate and other potential impacts. Learn more (click on Participate tab).
Town Council Meeting Agendas and Minutes
Reports from the Town Councilors
Historic Preservation Commission
Mayor and Town Councilors and their Areas of Responsibility
---
Mayor
John Compton
240-432-5700
[email protected]
The Mayor is responsible for all intergovernmental relationships and activities.
---
For Councilors with no contact information listed below, please refer to the phone numbers and email addresses shown in the Town Directory. If you do not have a Directory, please call the Town Office at 301-926-2256, or email the Town Office at [email protected].  Want to write the mayor and all councilors?  Please write to [email protected].
Borders
Eva Patrone
[email protected]
Contracts
Dave Cosson
Dog Park
Christine Dibble
[email protected]
Emergency Preparedness and Safety
Sylvie Favret
Forestry and Beautification (includes memorials)
Barbara Raimondo
[email protected]
Historic Preservation Commission
Robert Gilmore
Lake
Sylvie Favret
Lighting
Barbara Raimondo
[email protected]
Maintenance
Robert Gilmore
Maryland Municipal League
Robert Gilmore
McCathran Hall
Barbara Raimondo
[email protected]
Planning Commission
Christine Dibble
[email protected]
Racial Equity
Barbara Raimondo
[email protected]
Recreational Events/Recreation Committee
Eva Patrone
[email protected]
Recreational Facilities (Woodward Park, Playground and Tennis Courts)
Eva Patrone
[email protected]
Roads and Walkways
Sylvie Favret
Shady Grove Crossing
Barbara Raimondo
[email protected]
Sustainability
Dave Cosson
Washington Grove Conservation Park
Dave Cosson
Website and Communications
Christine Dibble
[email protected]
Woods
Dave Cosson
Town Office Contact Info
---
McCathran Hall
300 Grove Avenue
PO Box 216
Washington Grove, Maryland
20880-0216
Town Office
Located in the lower wing of McCathran Hall, the office is usually open 9:30am – 12:30pm; and 1:00pm – 5:00pm. Town Clerk Kathy Lehman is available to answer your questions. Please drop by, call the office at 301-926-2256 or send an email to [email protected].
Recyclable Yard Waste Pick-Up Returns
Our trash contractor will once again pick up recyclable yard waste from your properly marked containers and/or large brown bags. You may also bundle your brush and tie it with twine. Bundles should be no larger than 30" in diameter and four feet in length; no individual pieces larger than four inches in diameter.
Final Bulk Leaf Collection
Our spring 2022/23 leaf pick up must be completed by close of business on Friday, March 24, 2023. Residents have one final opportunity to have their spring leaves picked up by the vacuum truck. Please be mindful not to block traffic with leaves on our narrow streets.